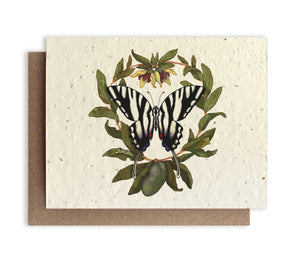 This card is printed on plantable white paper, which is embedded with herb seeds and made from post-consumer waste.
A2 size / 4.25" x 5.5"
Blank inside with a recycled kraft envelope
Shelf life of 2 years
Non-GMO seeds considered safe & non-invasive for USA, Canada & EU planting
10% of profits are donated to ecological organizations
To plant the paper, cover it with 1/8" of soil in full to partial sun and keep moist until the seeds establish. The seeds in this card are Parsley, Chive and Basil.