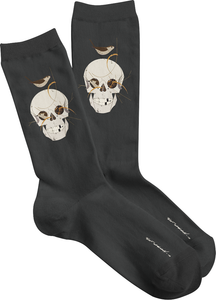 Women's shoe size: 5.5-9.5
76% cotton, 23% nylon, 1% Spandex
Featuring Charley's well-loved Wrented, this high-quality pair of socks is made with long-fiber fair-trade cotton for more durability. They are sewn with the Pointed Toe technique creating a more seamless appearance and less wear and tear.
These socks are designed to fit women's US shoe sizes 5½–9½, but their unique stretch allows for a larger range. Made in Colombia with 76% cotton, 23% nylon, and 1% Spandex.