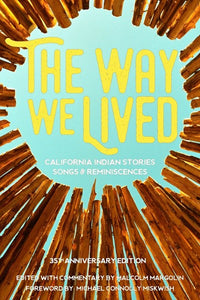 Format: Paperback
Page Count: 272
Dimensions: 0.8(h) x 6"(w) x 8.9"(d)
Here, in their own words, indigenous voices reclaim the narrative of California Indians. Before contact, California's Native people comprised five hundred independent tribal groups whose cultural and linguistic multiplicity expressed a sense of incalculable human richness. Reflecting that diversity, this collection of personal histories, songs, chants, and stories draws together a range of experiences from throughout the state and across generations to reveal the continuous Native presence in what is now called the Golden State. Speakers share traditional knowledge such as rites of passage, coyote tales, and dream journeys, and in equal measure they address the devastation that arrived with white people and the challenges that exist to this day—as well as the remarkable revitalization of their cultures over the past thirty years in particular. Variously funny, painful, insightful, and strikingly beautiful,
The Way We Lived
presents California's original sense of itself. This updated reissue contains a new foreword by Michael Connolly Miskwish (Campo Kumeyaay Nation) and a new introduction from the editor, Malcolm Margolin.