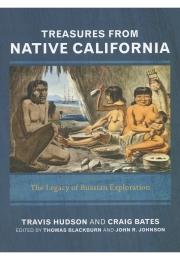 by Craig Bates, Travis Hudson, Thomas Blackburn (Editor), John R. Johnson (Editor)

Paperback: 231 pages

8.5 x 0.6 x 11 inches
The brief Russian presence in California yielded some of the earliest ethnography of Native Californians and some of the best collections of their material culture. Unstudied by western scholars because of their being housed in Russian museums, they are presented here for the first time in an English language volume. Descriptions of early nineteenth-century travelers such as von Wrangel and Voznesenskii are followed by a catalog of objects ranging from hunting weapons to household objects to ritual dress to musical instruments, games, and gift objects. This catalog of objects includes over 150 images, many in full color. An essential volume for those interested in the ethnology, archaeology, art, and cultures of Native Californians.