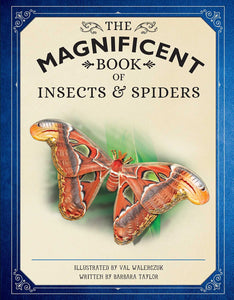 Weldon Owen (Author)
Hardcover: 80 pages
9.25" x 0.6" x 12"
Reading age: 8 - 12 years old
Grade level: 3 - 6
The Magnificent Book of Insects and Spiders will take you into a secret world of meadows and marshes, of leafy branches, forest floors, and rocky crevices, to meet the incredible insects and spiders that live there.

From the shimmering blue morpho butterfly to the gigantic goliath beetle, The Magnificent Book of Insects and Spiders book captures some of the world's most extraordinary creatures through stunning illustrations.

Intriguing facts accompany every illustration, so you can find out which insect glows in the dark, why the honey-bee dances, and how the raft spider walks on water. Discover all these facts and more in this beautiful reference you will revisit time and again.