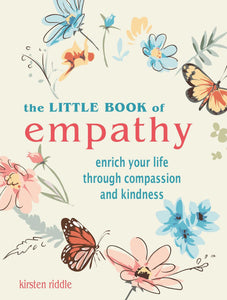 Kirsten Riddle (Author)
Hardcover: 144 pages
4.55" x 0.7" x 6"
Empathy—the ability to understand another person's feelings as if they were your own—has never been more needed or cherished. The Little Book of Empathy explores what empathy is and how to develop it, from the science of empathy, including the different types (cognitive/emotional/compassionate) and what actually happens in the brain, to World Empathy Day and the global education movement of Empathy Week, and how this works to empower young people. With hints, tips, and mini exercises all focused on developing your empathic skills, as well as mantras, affirmations, and quotations to help focus the mind, this book is a treasury of empathy. It looks, too, at how to create empathic bonds with animals and in nature, as well as the role of empathy in living mindfully, and how we can add to our empathic toolkit as we navigate each day. Whether you're looking for an upbeat read or simply daily inspiration, this book will help you unleash your empathic superpower and let it grow and flow.