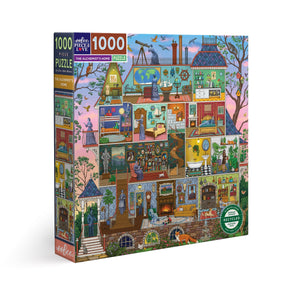 1000 glossy pieces
23 in x 23 in
Illustrator: 

Vasilisa Romanenko

Recycled board, FSC®-certified paper
Descend into a world of mystery and fascinating detail with The Alchemist's Home 1000 Piece Puzzle. Featuring exquisite illustration by Vasilisa Romanenko, every piece plays an important part in recreating incredible levels of detail - from brickwork to bookshelves, carpets to beakers & flasks. The closer you look, the sooner you'll realize everything isn't as it seems... Spooky!
A jigsaw puzzle for adults and families, with glossy, sturdy pieces, and minimal puzzle dust.
Made with recycled board and printed on FSC®-certified paper using vegetable-based inks.