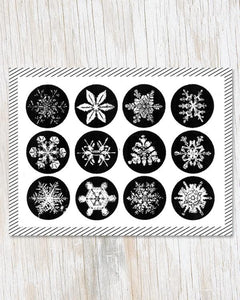 Blank inside
4.5″ x 6″ folded
100% Recycled card
100% Recycled envelope
Photographs by Wilson Bentley (1865-1931)

They say "no two snowflakes are alike" for good reason. As the temperature drops low enough for water droplets in the air to freeze, the crystalline nature of ice generally leads to six-sided structures, such as those featured here. Every variation in temperature, humidity, wind, or even the type and volume of particles in the air will affect the final shape of the snowflake, meaning it's incredibly unlikely two will ever be identical.
GC105K CASE