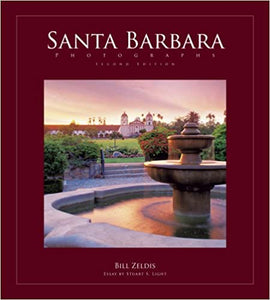 Bill Zeldis
Hardbound: 132 pages, 172 color photographs
10.5" x 11.75"
Second Edition
Essay by Stuart S. Light
Santa Barbara Photographs, a local artist's loving portrait of this splendid city, is a lavishly produced coffee table book. Over 170 colorful images explore Santa Barbara's architecture, its creative community, world-class art, shopping and dining, festivals and special events. With sections on the neighboring communities of Montecito, Carpinteria, and Goleta and an excursion to the nearby wine country of the Santa Ynez Valley, this is a beautiful tribute to a true American paradise.