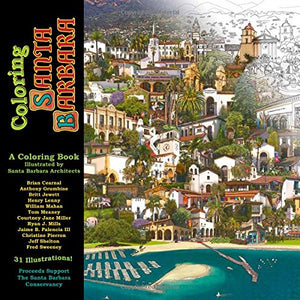 31 Illustrations by 12 Santa Barbara Architects
Easy-tear perforated pages with an additional historical background of each illustration. 
Proceeds support The Santa Barbara Conservancy
Coloring Santa Barbara aims to have a little fun! Twelve members of Santa Barbara s architectural design community generously gave of their time to create this sometimes romantic, sometimes whimsical, book of illustrations depicting this place we call home. All proceeds from this project support the efforts of The Santa Barbara Conservancy, which advocates for the recognition, preservation, and revitalization of historic, architectural, and cultural resources in Santa Barbara, works to increase public awareness of and participation in local preservation issues, and documents Santa Barbara s wonderful historic resources through its publications.