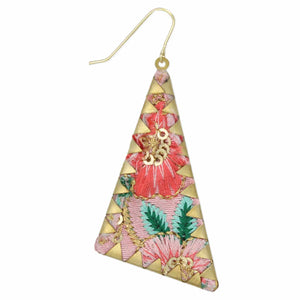 2 3/4" x 1"
Gold Tone Metal, Embroidered Fabric
Handmade in India
Floral fabric design will vary
Triangle shape floral embroidered fabric earring, a captivating and feminine accessory that features intricate detail. These stunning earrings feature a gold crimped border triangle shape adorned with delicate pink floral embroidery on light pink fabric. The soft combination of colors and detailed stitching create a beautiful and eye-catching design. Add an elegant vintage statement with these exquisite pink floral earrings.