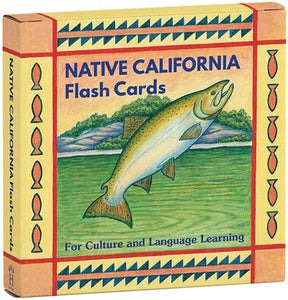 Format: Gifts, Cards, Other
Page Count: 28
Dimensions: 0.47(h) x 4.09"(w) x 4.17"(d)
This is a fun activity for California Native language learners of all ages. The front of each card in this set features an image that has cultural importance to a California tribal group. The back of each card contains a blank area where an instructor can use a dry-erase marker to write a related word in an Indigenous language. Since each of Lyn Risling's (Karuk/Yurok/Hupa) illustrations contains many different elements, the flash cards can be used over and over again to identify multiple words.