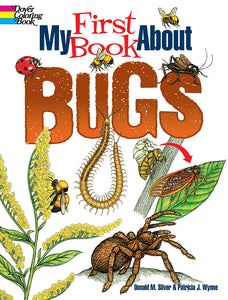 Collaborators: Patricia J. Wynne, Donald M. Silver
48 pages, 46 illustrations
8.25 in x 10.875
Ages 8 - 12 years
Welcome to the weird and wonderful world of bugs! Forty-six illustrated pages with easy-to-read captions combine the fun of coloring with learning and offer interesting and fun facts about dozens of creeping, crawling, flying, climbing, chirping, buzzing, biting, light-flashing, silk-spinning, and sometimes scary tiny creatures that inhabit the Earth. Learn about their body parts and different stages of life, how they communicate with one another, what they do to protect themselves from predators, and much more. From backyard bugs and seashore bugs to bugs found in the desert, tropics, caves, or even inside your house — budding young entomologists will discover awesome details about both common and uncommon insects.