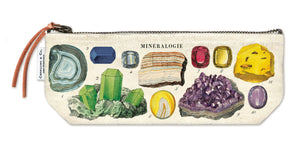 100% Cotton
Double Lined
Gussetted Bottom Panel
The Mini Mineralogy Pouch features a colorful collection of precious gems and minerals. It is perfect for carrying pens and pencils anywhere you go, or use it as a travel bag for overnight supplies- it is the perfect size for your toothbrush and toothpaste! 
Pouch measures approximately 4x9 inches when lying flat, approximately 3 inches high when standing open.