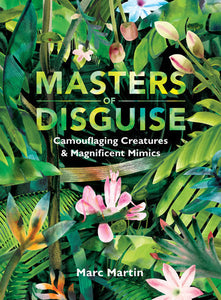 Marc Martin (Author, Illustrator)
Hardcover: 56 pages

9.06" x 0.43" x 12.13"

Reading Age: 4 - 8 years old
Grade Level: Preschool - 3
Now you see them, now you don't. Cloaked in a riot of color, pattern, and texture are a dozen animals—from chameleons and polar bears to Gaboon vipers and mimic octopuses—that have mastered the art of fading into the background. Fact-packed pages segue into clever and beautifully illustrated seek-and-find spreads that put readers' newfound knowledge of each creature and its ecosystem to the test. In a timely and visually arresting novelty book for nature lovers of every stripe, Marc Martin jets budding conservationists around the world to artfully expose the secrets of animal camouflage.