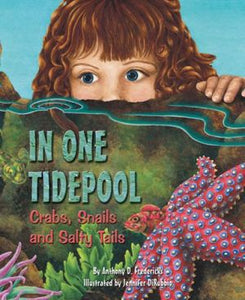 Paperback :

32 pages

5.9 ounces

9 x 1.5 x 11 inches
Did you know that a whole community of creatures lives in a tidepool? (We promise, it's not just starfish!) Dive into their wet and splashy home and explore the world of:
Barnacles
Hermit crabs
Sea snails
Sea Anemones
And more!
Fun, building rhymes make this a perfect storytime read-aloud:
A knobby sea star slowly slips
Across the pool on feeding trips.
It creeps by limpets, brown and white,
Who tightly cling with all their might,
And watch the crabs with borrowed rooms
Shuffle across seaweed blooms.
Backmatter includes:
Descriptions of every animal mentioned in the book
Fantastic facts about each sea creature
The authors' favorite resources to learn more about ecology
The authors' favorite wildlife conservation and animal preservation organizations