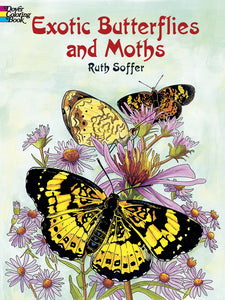 Ruth Soffer

32 pages, 8.25" x 11"
This collection of finely detailed, accurately rendered illustrations by nature artist Ruth Soffer depicts 29 species of lepidoptera, among them the sheep moth, the painted lady, blue morpho butterflies, the malachite butterfly, the rare birdwing butterfly (found only in southeast Asia), and the western tiger swallowtail.
Captions provide information on areas inhabited by these winged beauties and types of flowers to which they are attracted. Among the most delicate and beautiful creatures of nature, butterflies and moths offer colorists a special challenge — and hours of coloring enjoyment.