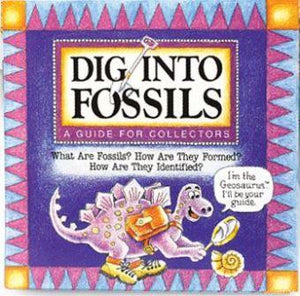 Looking for a fantastic fun find? The Dig Into Fossils Book is just the thing to benefit young minds and keep geology enthusiasts amused. Follow the Geosaurus to learn all about prehistoric fossils. This book is a great gift for any child interested in rocks. A perfect present for the aspiring fossil hunter or geologist in your family!
Includes answers to these questions:
* What are fossils?
* Why are fossils important?
* How do fossils form?
* How are they formed?
* How are they identified?
It also includes brief descriptions of the following fossils: ammonites, baculites, blastoid, brachiopod, clam, crinoid, devil's toe nail, coral, gastropod, protozoa, orthoceras, sea urchin, trilobites, dinosaur bones, turtle shells, fossilized fish, shark teeth, amber, algae, petrified wood, ferns, coprolite and more.
Total of 25 full-color pages, 4.25 x 4.25 inches mini booklet format.