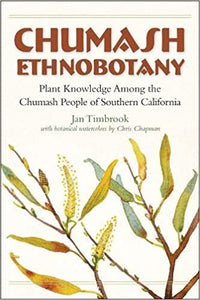 This title is currently out of print indefinitely.  We apologize for the inconvenience. It is our hope to be able to make this available soon. 
by 
Paperback: 272 pages
6.5 x 1 x 9.2 inches
From islands off the shore of Santa Barbara to the chaparral-covered mountains of the dry inland regions, the land of the Chumash is a storehouse of plants, an area of great biological richness and variety. Living intimately within this land for more than nine thousand years, the Chumash developed an intense and sophisticated relationship with the plants around them. They collected and processed nuts, seeds, berries, roots, leaves, twigs, shoots, and wood from which they created practically everything they needed to live, from medicines to weapons to decorative items.
Covering both historic and contemporary use of plants, this book - the result of three decades of research in archives and among native people - celebrates more than just the variety of plants; it celebrates the resourcefulness and ingenuity of the people who have always known them best.