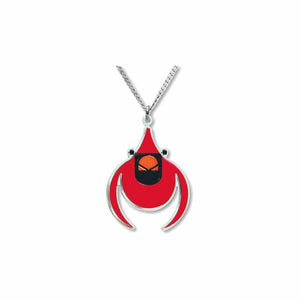 Charley Harper (American, 1922-2007) called his unique style of art "minimal realism." his interpretation of the bird remains a classic in his body of work. Whether in flight or at rest, Charley's cardinal embodies a mid-century modernist enjoyment of nature.
 finish: solid brass, electro-plated with non-tarnishing silver finish,
giclee print dimensions: pendant is approx. 1" and hangs from an 18" chain.