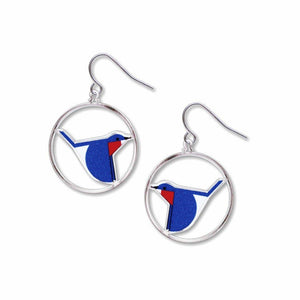 9.827 finish: solid brass, electro-plated with non-tarnishing silver finish,
Giclee print, ear wires are hypo-allergenic dimensions: hangs approx. 1.75"
Gift boxed with provenance card
Artist Charley Harper (American, 1922-2007) wrote in 1975 that a bluebird "banishes the blues and hoists happiness high. Cheuery, cheuery, cheuery: don't give up, don't give in, don't give out. Look for the silver lining somewhere over the rainbow, the six o'clock news notwithstanding.