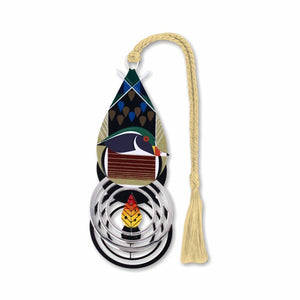 Solid brass, electro-plated with non-tarnishing silver finish, giclee print
Dimensions: approx. 1.25" x 3.25"
Packaged in an acetate sleeve with a provenance card.
Charley Harper wrote dig the fancy dude in the far-out sport coat: wood duck, adult, male. Spanning the color spectrum with sartorial splendor, he upstages the autumn leaf, rafts a rainbow down the riffle, and sends a surge of inspiration through the artist. He's the best-dressed bird of the year, year after year.