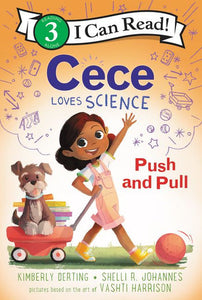 Author: Kimberly Derting, Shelli R. Johannes; Illustrator: Vashti Harrison
40 pages
Ages 4-8 years
Cece loves science! In this STEM-themed Level 3 I Can Read! title, Cece and her friend Isaac learn about the opposite forces of push and pull, and use their new knowledge to create a treat dispenser for Cece's dog, Einstein. Perfect for aspiring scientists, emerging readers, and fans of Andrea Beaty's Ada Twist, Scientist. 
The Cece Loves Science books introduce readers to basic concepts of science, technology, engineering, and math, and are perfect for the classroom. This Level 3 I Can Read! focuses on basic scientific vocabulary and includes a glossary of terms and fun activities for readers to try on their own. A great pick for beginning readers and budding science-lovers.