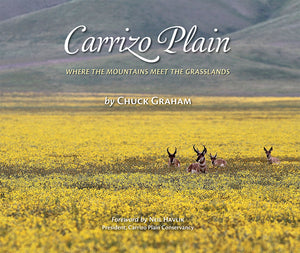 In 2006, during my first trip to the Carrizo Plain National Monument, I didn't envision a photo book of these stunning grasslands 15 years later. I now have a collection of images from the last of California's grasslands, time spent in the field chasing light, patiently waiting for wildlife to emerge, and anticipating the next Super Bloom. My book coincides with the 20-year anniversary of the National Monument in January 2021.

It was difficult squeezing 15 years of images into 116 pages, but what I hope is the viewer will get a glimpse of what makes the Carrizo Plain one of the most unique and last great wildernesses in the Golden State. A place to continue to protect, especially considering our Public Lands are under threat across North America.
- Chuck Graham
 
Chuck Graham is a freelance writer and photographer in Carpinteria, CA. He's also been a beach lifeguard for over 20 years, works as a guide for Channel Islands Adventure Company leading kayak tours and backpacking trips at the Channel Islands National Park, and is the editor of DEEP Surf Magazine.