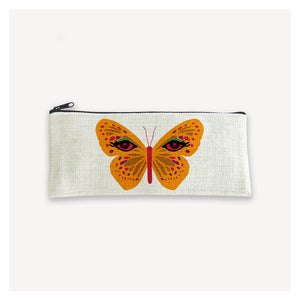 9.45" x 3.94"

Heavyweight, textured canvas
Printed in the USA
Here's looking at you, potential pouch person. This bright orange butterfly is somewhat reminiscent of the Great Owl, except the eyes on those wings don't have luscious lashes. This bold design in sunset hues is set off by emerald green "eyeshadow" and a black zipper along one long edge.
Imported pouch made of man-made fabric.