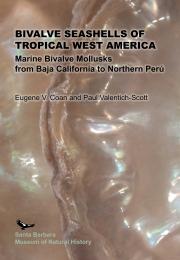 by Eugene V. Coan, Paul Valentich-Scott

Hardcover: 1258 pages
8.5 x 11.75 inches
Bivalve Seashells of Tropical West America is the most comprehensive book ever written on tropical Pacific Ocean bivalves. This is a "must have publication" for tropical malacologists, paleontologists, archeologists, libraries, shellfishery and environmental scientists, and shell collectors.
The culmination of a nine year study, it treats all bivalve mollusks living from northern Baja California, México to northern Perú. A total of 890 species are described and illustrated with over 5,000 color photographs and detailed drawings. All habitats in the region are included from the intertidal splash zone to the abyssal depths of the ocean basins.
The book has over 5,000 complete bibliographic references to the bivalves including citations on the biology, physiology, ecology, and taxonomy of this commercially and biologically important group. Character tables and dichotomous keys assist the reader in identification. Also included in the 1258 page book is an illustrated key to the superfamilies of the region, and a complete glossary.