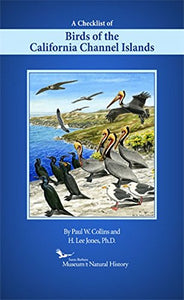 Paul W. Collins and H. Lee Jones, Ph.D. 
Staple-bound: 47 pages
Black and White 
A Checklist of Birds of the California Channel Islands is the most up-to-date and
comprehensive annotated list of the avifauna of the California Channel Islands, an eight island archipelago off the coast of Southern California. A compilation of more than 40 years of study by the authors and others, the checklist provides information on the distribution, seasonal status, and abundance of the 422 species, both native and non-native, that reside or have otherwise occurred on the Channel Islands since the mid-1800s. Annotations include current and former breeding status, seasonal status and abundance, and for rare species, specific dates of occurrence.

This is a "must-have publication" for ornithologists, paleontologists, archaeologists,
ecologists, environmental scientists, resource managers, natural historians, and birders
who are interested in the fauna of the Channel Islands.