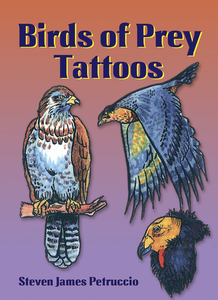 Steven James Petruccio
2 pages
5.8" x 4.2" x 0.3"
Ten exciting full-color tattoos of the peregrine falcon, red-tailed hawk, California condor, red kite, bald eagle, and five other avian predators.
Majestic birds of prey are swopping down to capture their quarry in these ten realistic tattoos. These safe and nontoxic tattoos can be easily applied following the directions printed on the inside back cover. The tattoos can be removed if desired by following the directions, or will wear off after several days; they are waterproof, and can withstand bathing conditions.