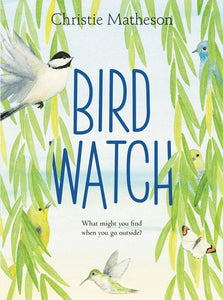 Author and Illustrator: Christie Matheson
48 pages
Ages 4-8 years
There are treasures hiding in the trees! Can you find them? From the author of the acclaimed and bestselling Tap the Magic Tree, this stunning picture book merges basic math concepts with elements of a treasure hunt.
With different species of birds and other forest animals hiding in the trees and bushes, there is something new to discover on every page. Patience is rewarded as readers learn to count backward from ten, meet new birds, and learn about the diverse ecosystem of the forest. Beautiful watercolor-and-collage art, a playful counting text, and a search-and-find theme will inspire children and parents to return to Bird Watch again and again.
And for curious young birders, a page of information about bird-watching and the different birds that appear in the book is included.