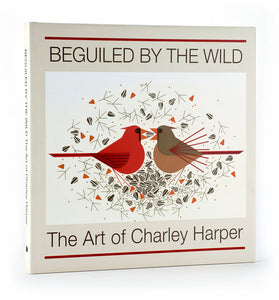 Collaborators: Charley Harper, Roger Caras and Brett Harper
11.25 in x 11.25 in
Hardcover Smyth-sewn book, with jacket
132 pages, 110 full-color reproductions
Presenting more than 110 serigraphs accompanied by intriguing, pun-filled captions, this new, revised edition of Beguiled by the Wild: The Art of Charley Harper pays homage to one of America's most beloved artists. Harper, with his masterly use of simple geometric shapes, patterns, and vivid colors, distilled the essence of each bird, bug, otter, raccoon, or elephant he painted to its most important details. His approach to depicting the natural world is both sophisticated and fun. His works—especially those of cardinals and ladybugs—have become icons of wildlife art. This new edition of Beguiled by the Wild, originally published in 1994 and long out of print, presents—exclusively—all of the serigraphs Charley Harper produced from 1968 to 2007. Fans of Harper will be happy to see, along with several new images, almost all of their favorites from the original edition.