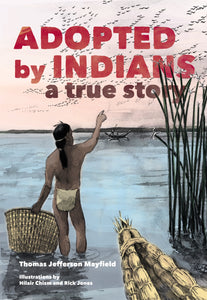 Paperback
Page Count: 144
Dimensions: 0.4(h) x 6.7"(w) x 9.7"(d)
Reading age : 9 - 12 years; Grade level : 4 - 7
This book gives younger readers a close-up view of traditional California Indian life and early California. Thomas Jefferson Mayfield kept a wonderful secret for almost sixty years: the secret of his childhood among the Choinumne Indians of California's San Joaquin Valley. For twelve years he played and slept alongside Choinmune children, he hunted and fished with them, ate their food and wore their clothes. Adopted by Indians is the story of a boy who had an adventure that we can only dream about and it is absolutely true. Adopted by Indians has been approved by the California Department of Education and is listed in the Instructional Materials Approved for Legal Compliance Catalog.