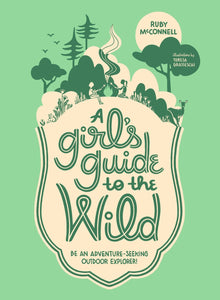 Author: Ruby McConnell; Illustrator: Teresa Grasseschi
272 pages;  7.5 in H | 5.5 in W | 0.7 in T | 0.6 lb Wt

Ages 9 to 12,Grades 4 to 7.
Your definitive guide to getting outside--for girls ages 9-12! In addition to basic outdoor skills, this entertaining guidebook includes easy camping recipes, outdoor projects including science experiments and crafts, fun activity suggestions, and inspiring stories of diverse historical and contemporary outdoorswomen.