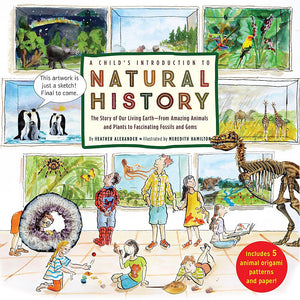 Heather Alexander (Author), Meredith Hamilton (Illustrator)
Hardcover: 96 pages
10.38" x 0.63" x 10.38"
Ages: 8 to 12
Grade Level: 3 to 7
Highlighting every kingdom of life--plants, bacteria, mammals, birds, amphibians, insects, rocks and minerals--the book is also full of charming and witty illustrations by Meredith Hamilton plus 30 photographs throughout. The book delves into topics like geology; prehistoric times, including fossils and dinosaurs; how animals move and fly; evolution; biomes; and more. Sidebars throughout offer biographies of naturalists like Charles Darwin, Mary Anning, and Charles Henry Turner.
Also includes fun, hands-on projects for kids to do on their own or with adults and 5 origami patterns to create your own paper fox, whale, penguin, and more. Beautifully illustrated and designed, this is an entertaining and educational look at our natural history.