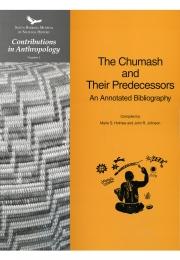 byÂ
Paperback: 228 pages

 11" x 9" x 1" inches
The Chumash Indians are a diverse group of people linked by a family of languages who have inhabited the Santa Barbara Channel region for many millennia. Since the time of European contact a vast assortment of literature has been dedicated to the topic of the Chumash and their culture.
This bibliography provides a comprehensive guide for researchers, educators, and Native Americans, as well as other individuals interested in learning more about the original peoples who inhabited the Santa Barbara Channel region, with annotated entries for over 1200 relevant publications. It is divided into sections dedicated to the four traditional fields of anthropology (ethnology, linguistics, archaeology, and physical anthropology), and includes chapters on rock art, accounts of early European contact, resources for education and juvenile audiences, and scholarly reviews of previously published works.